CPYist – SteamPunk from Never Neverland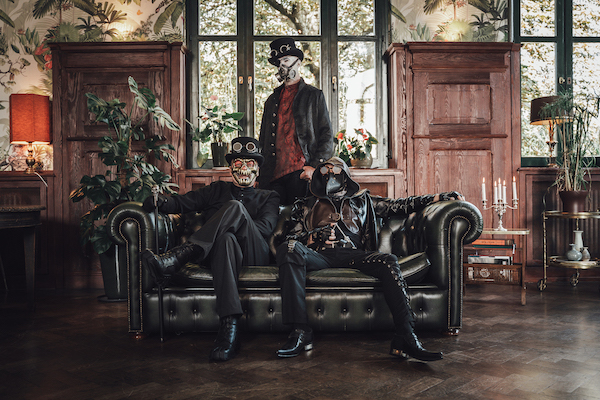 CPYist create with "Never Neverland" an alternative New-Wave-soundscape in SteamPunk garb
The dark SteamPunk with its masks, Venetian-inspired costumes, hats and accessories reflects the attitude towards life of the German band CPYist.
Fueled by a desire to create something new, with excessive creativity, free spirit and love for the hopeless cause, frontman and producer Marquee Steven_XL created an exceptional Dark Wave opus full of magic and passion in his very own "Never Neverland Studio". On the album "Never Neverland", the three musicians used various sounds and styles, such as Pop, Rock, Metal, Electro or Ambient, and composed a soundscape in which one can literally delve.
For the mastering of the 13 tracks, the internationally renowned Kai Blankenberg from the "Skyline Tonfabrik" could be gained, who also refined the sound of albums by such diverse artists as Paradise Lost, Beatsteaks, Oomph or Lady Gaga.
The debut album, to be released on May 13, 2022, via Dr. Music Records, features complex storytelling that does not subject to classic songwriting. Here, diverse themes are staged with music that lyrics and sound blend into a melodic, catchy unit. "Never Neverland" not only allows interpretations and own perceptions but demands it from the listener. With the final song "Wake Up People", the true meaning and message of the album becomes concrete: AWAKE!
CPYist were founded in 2020 after Marquee Steven_XL (guitar, programming, vocals) called his best buddies Butch Bloodwood (vocals) and Dogda Beat (drums and programming) to join him in following a vision.
The band name was derived from the term "copyist" whose task is to create duplicates of pictures, writing or text. Counterfeiters also use this title. CPYist take a similar approach. The band uses samples, loops, and all the nuances of the notes which the music dictates to us rather than reinventing it by simply presenting it as a new collage. Already in the spring of 2021, Butch Bloodwood recorded the vocals and helped, supported by Marquee Steven_XL's background vocals and effects, embed the statements and lyrics of CPYist in the appropriate sound costume with his clear and powerful voice. The trio cites music itself, in all its facets, as an influence. The music depicts feelings in its own unique way, sometimes arbitrarily, sometimes coldly calculating, representing fragments of human emotions. "One Way Ticket", also the first single along with music video, opens the illustrious round and circumscribes life with all its possible twists and turns. "Black White Pink" is a critique of society and governments which are becoming more and more incapable of finding a compromise. With "Slave 24_7", the band focuses on the interplay of obedience and humility, dominance and leadership, which is prevalent not only in the S&M scene but also everywhere else in our world. The title song, which is also the second single, misses dancing as a means of expressing joy and sorrow. Communication today must be filtered and suitable for the masses. Long live the collective of supervised thinking! The third single "My Thoughts To Be" deals with questioning the reason for one's existence, which not even Google can answer. The album's final track "Wake Up People" is a stirring mantra for current events. CPYist call to finally wake up and make compromises to find each other and not be divided by anything or anyone.
With their mixture of diverse musical styles such as Industrial paired with Dark Wave and EBM-elements, garnished with harsh guitar riffs, all framed by the mysterious and extravagant SteamPunk optics along with dark theatricality, CPYist have managed to take the listener on a crazy trip that is both challenging and intoxicating. Not only fans of not ordinary sound experiments should check out this opus of artistic diversity since the album's statement is unambiguous: Art is free!
Line-Up:
Butch Bloodwood: Vocals

Marquee Steven_XL: Vocals, Guitar, Programming

Dogda Beat: Drums, Programming
Tracklist "Never Neverland": 
02. Black White Pink
03. Slave 24_7 (Night Version)
06. Der Movieman
07. She Told Me She Had A Gun
08. My Love To Hate YA
09. Schick mich
10. Pandora's Box
12. Slave 24_7 (Day Version)
13. Wake Up People (In The Middle)
Press reviews
---
"But hellodri! Almost as if out of nowhere songs and scapes are gambled, that add a psychedelic touch to afternoon tea without you didn't put anything in before. Amazing!"
---
"Electro Rock meets Dark Wave. A sound-cosmos that winks melodically…"
---
"At the start of the career getting the vision to smash all genre boundaries in order to design the very own sound: an ancient dream."
---
"Dark-wave-soundcollage with steam"
(Martina Wutscher, Orkus!; 6/2022)
---
"Extraordinary dark wave mix full of magic and passion. … "Never Neverland" is an interesting project (?), somehow wacky and, despite full-bodied self-description, somehow anything but ordinary. Definitely a must for genre fans."
(Robert, Obliveon; 05/13/2022)
---
"… the album delivers some interesting takes on a lot of European electronic, goth, and pop influences. …  what remains is some worthy dark-wave-ish, goth-type, German electro-pop infused, tastiness."
---